WhatsApp Plus IOS is getting popular among users. As for android there is no restriction for external apps to use because we can't neglect the fact android provides compatibility. We are writing this guide for our IOS users who want to Download & Install WhatsApp Plus for Iphone. For IOS WhatsApp Plus also called WA++.
Apps for Iphone are of larger size compared to android. IOS completely build for mobile phones that's the reason it anticipate better performance. We provide you with complete procedure by following which one can downlaod & Install WA++ on your Iphone.
WhatsApp Plus for Iphone
Programmers built this Version specifically to run on Iphone. It is compatible with all operating versions of IOS.  Also run on IOS 13.
More: Download WhatsApp Plus for Android
Requirements to Download:
System Memory 114MB should be available.
Source is malware free and safe.
Can be downloaded to any Version of Iphone.
It is free of Cost & Last updated on December 2019. Updated versions available when Iphone launches its new IOS.
Download WhatsApp Plus for Iphone:
All Apple devices have their own operating system called IOS to run applications. It is different from android and even better in performance. IOS has its own store to download apps. Security is also improved due to incompatible with other devices.
As WA++ is not available on android & IOS store. So you have to download it from external source. APK file cannot be open IOS. You have to find an alternate app in Apple store or download it from some safe source.
Our source is Safe & trusted without any malicious content. Download WA++ from above button. For android it is called WhatsApp Plus but for IOS it's name is Whatsapp++. Even it is not developed by the same developer.
Install Whatsapp Plus for Iphone
If you want to Install Whatsapp++ on IOS or MAC you won't be able to do so with apk file. First you need to download IPA file from above mentioned Link.
To Install IPA file of WA++ on Iphone, MAC or Airpad you need Cydia Impactor. No matter your device is Jailbreak or Non-jailbreak Whatsapp++ can only be download on IOS through Cydia Impactor. We will provide you complete guide below:
What is Cydia Impactor: It is GUI tool working with Mobile devices. It helps to Install IPA files on IOS and also used for APK files. (Don't Run Impactor as Administrator on Windows 10. Otherwise drag/drop of files won't work)
To make this program work, we have to follow these steps:
Step 1: Download Cydia Impactor on your Windows. You can download this from our platform too.
Second Step: Connect your IOS device with PC.
Third Step: When it will recognize your device, Drag IPA file to program's interface.
Step 4: It may ask for Apple ID, if you are using it for first time. Wait for the installation to complete.
Step 5: After Installation open the app. A message will Pop up, To Approve go to settings > General > Profile management & Select Trust. It requires permission from your device.
Now App has been installed on your IOS. Enjoy it's features. If you have Whatsapp in your device, you will have to uninstall it first.
WhatsApp Plus Features for Iphone:
Below features you can enjoy on your IOS device:
Disable Read Receipts
Send More than 30 Pics in one go
Selective Read Receipts
Disable Delivery Icon
Custom themes
Share Music
Touch ID/Passcode /FaceID Protection
Amazing Add-Ons
Screenshots: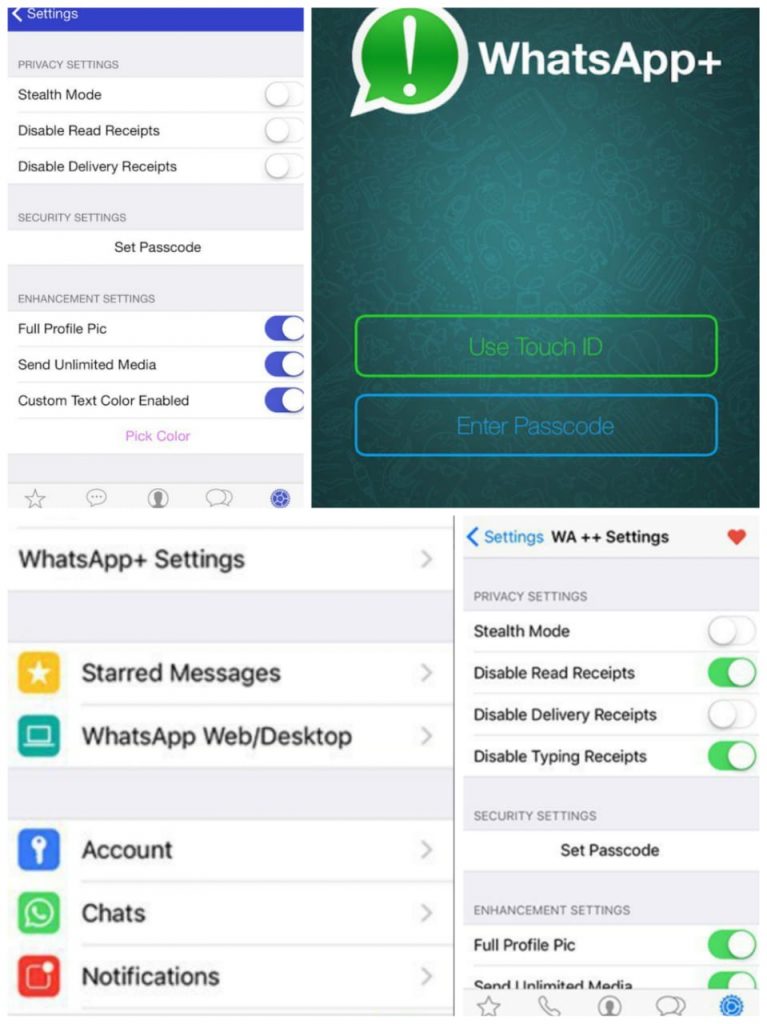 Query: I Cannot Able to Install Whatsapp Plus on Iphone.
Answer: IOS keeps verifying certificates of Apps after every week. I might stop app download from external source. If you are facing this issue, try restarting your Iphone. It will work.